The European adventure; An unforgettable escape from reality. 90 days, 7 countries, 2 bags, and a whole lot of memories.  A time when fleeing to another country every 72 hours is normal. No thoughts of time and money. A time where lifelong friendships were built, 4am pizza was enjoyed, and sangria was sipped on the daily.
Each country I visited had its own unique ambiance. From the breathtaking views of Italy, to a blue island in Greece, a massive city like London, or the calm country of Switzerland, I was always feeling something different. 
Not everyday is easy abroad. Each day came with its challenges, yet it was the small moments  that I will always remember. Dancing in Positano to Ribs by Lorde, looking out the taxi window at my first view of the Eiffel Tower, or making our own street performance in Porto, Portugal. I want to thank each amazing person I met along the way of this experience, From Tina, my Day 1,  to Katie, a new friend who will be one for life. I am thankful for my wonderful host Mother who made my time in Madrid a warm and comforting place. Thank you to the people of each European country I had the chance to check out and I have no doubts I will return to explore the hundreds of places left on my bucket-list.  
​​​​​​​
Madrid; the city of cheap wine, endless nights, lively culture, delicious tapas, and wonderful people. I chose to study in Madrid because I wanted to learn more of the Spanish language and only heard good things about the country of Spain. I was not prepared for the beauty, colorful, old, and passionate city of Madrid. The people of Madrid adore their city. They take pride in the tapas and Tinto Verano and each Spaniard I came by during-my time in Madrid was kind. Madrid is a clean and well-kept city. I had the pleasure of living with my amazing host mother, Francis, and roommate, Sam, in the financial district, about a 25 minute metro to the main Gran Via and Sol area. The metro system is clean and easy to understand, on top of being very affordable. Each morning before class I would grab "café con leche" (coffee with milk) and a croissant de mantequilla from Jimm's Coffee. 
Af
ter classes, I did my best to explore different districts of Madrid, which I personally label by metro stop. Some of my favorite areas were Chueca, Malasaña, Plaza de España, Banco de España, Gran Via, Tempe de Debob, Tirso de Molina, and many more. During the night, the city took a life of its own. My abroad group tended to hang around the Sol area, grabbing drinks and tapas at different bars. Madrid has a reputation for a great variety of night clubs and late nights. The clubs are massive, with up to seven floors, so it can be overwhelming and expensive, but absolutely a fun time. My favorite way to spend the evening with friends would be trying a new restaurant with a bottle of wine. My favorite restaurant for dinner and drinks was La Casa de Abuelo, which is right next to Plaza Mayor. 
BloomCaferia, HD , 
Bel Mundo (Pizza) , 
Sky Bar 360 (Amazing City Views) , 
Villa Capri (Italian) , 
Tacos de Al Pastor (Cheap and Delicious), Pum Pum Cafe, 
Dona Luz Rooftop. 
Lolina Vintage Cafe, 
St Anten Market. 
San Miguel Market
SIGHTS AND AREAS TO EXPLORE 
Ride the boats at Reterio Park, Walk the streets of Cheuca and Malasana, Watch the Sunset at Tempe de Debod , Grab cookies made by nuns near San Miguel, Visit the beautiful Palace of Madrid, Go to Flamenco Show (Cardamone is great),  visit Plaza de Espana and Plaza de Sol,  Go to the Prado Museum, Explore El Rastro on Sundays, and visit the area of Tirso de Molina
Spain took my breath away from the moment I arrived. I spent my first three weeks traveling through the small and large Spanish cities by the speed trains, a perfect way to get around the country.  I was amazed by the kindness of the Spanish people and their lack of  apprehension to get to know you and where you are from. 
​​​​​​​
It was so surprising that for a place only 30 minutes away from Madrid how different its  landscape was. We spent one night in this medieval city, strolling through  windy roads. At night time, the city has  empty streets and quiet loc
als. I really enjoyed the Catedral of Toledo because of its size and beauty. The building has both indoor and outdoor sections and creates beautiful light an
d shadows. The city is bursting with history with monasteries, its alcazar and countless museums. It is a must-see if visiting Madrid. 
We took the train very early in the morning and arrived ready to explore all the city had to offer. We visited important landmarks such as the  La Lonja de la Seda, Valencia Cathedral, Casco Historio, Central market, and a fort with beautiful views! 
The most exciting part of the day was trying what Valencia is famous for, Paella! Bettina and  I decided to try the seafood one and we were shocked at how massive the plate was. Overall, I would say, make the trip to Valencia. I wish I could have spent more time, but at least I know where I will return for my next time. 
*I recommend doing research for the best Paella, as we struggled a bit when we arrived. 
ANDALUSIA (THE SOUTH OF SPAIN) 
On week two, we visited the smaller Spanish city of Cordoba which had a great aesthetic, amazing people, yummy wine, and delicious food. Cordoba has lots of history and was considered the New York City of Spain in ancient times. 
The most beautiful part of Cordoba is the Mezquita. It is a mosque and Cathedral all in one, and one of the most surreal sights in all of Europe.  My favorite element of this place was the flower pots on the walls. I thought it was unique and something I only saw in this city. 
 Despite a few travel issues & a very interesting hotel stay, we loved exploring the old city and beaches of our next city, Marbella! This old city was straight out of Pinterest and I am so glad we had a chance to see it. The beaches here are gorgeous and fun fact, this place has the most golf courses in the world! I would love to come back to Marbella in the summer-time to truly enjoy its beaches and summer vibes. 
Andalusia is a perfect place to visit if you are looking to see the beauty of Spain outside of the major landmarks of the North.  
​​​​​​​
Segovia is a city only 30 minutes away from Madrid by train. My mom was visiting this weekend, so we decided to make the trip and check it out. The weather was freezing, so we bundled up and explored the Cathedral, Plaza Mayor, Aqueduct, and shops! The Cathedral was my favorite site as it had a beautiful exterior and an even better inside. 
Right when we arrived, we  heard music from the other-side of the Aqueduct and followed what we heard. We saw a whole parade of performers with different 
instruments. We spent some time listening  to them and following them as they traveled up the main street. 
Segovia is a fun small town with lots of worthy shopping and delicious food.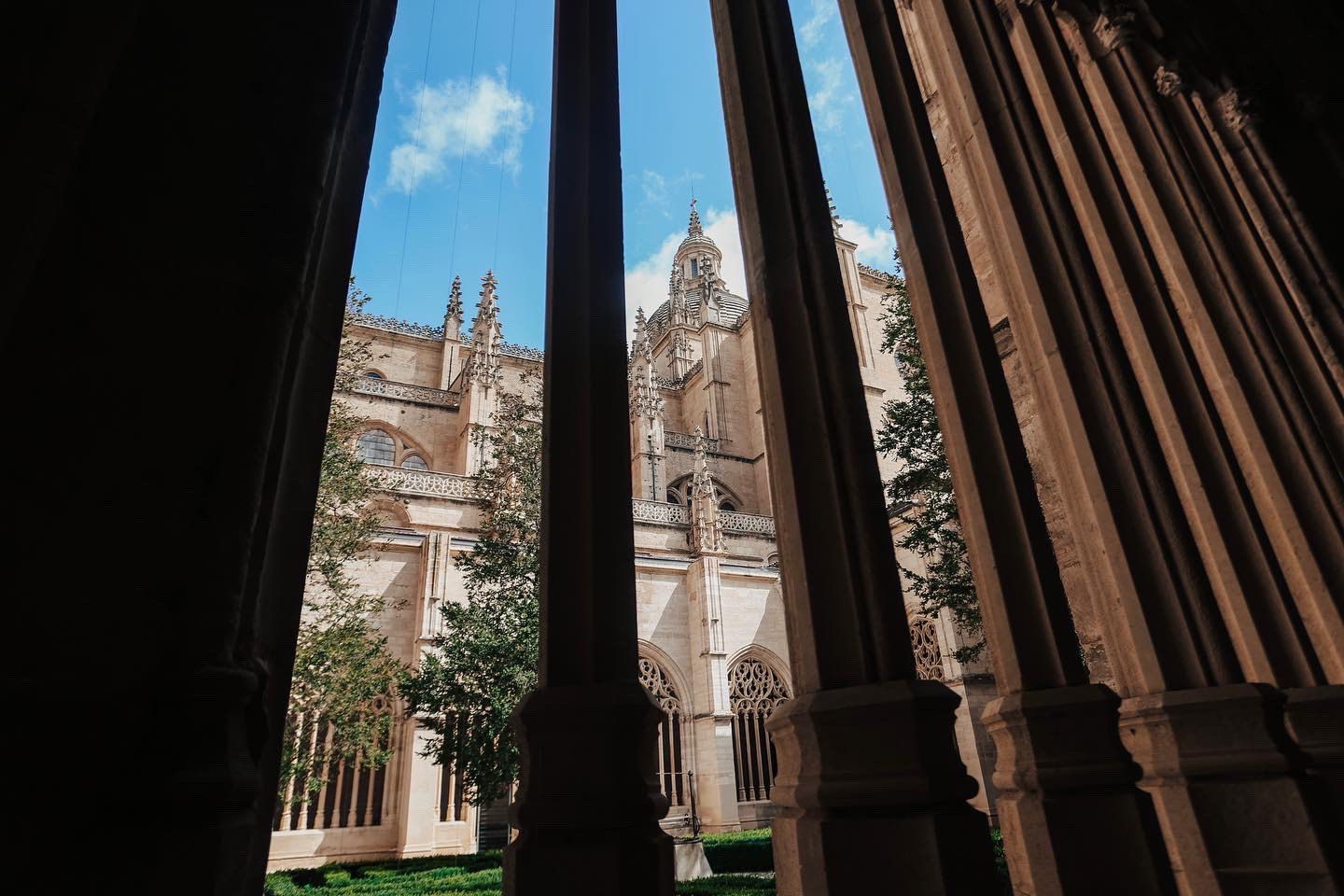 Barcelona was so good to me, I had to visit twice. Although I am biased to Madrid and the comfort it brought me, I truly loved Barcelona and the elements it had that made it so unique. 
With the city being on the water, it has a more relaxed and beach feel to it. 
My favorite part of Barcelona has to be Park Guell. I went both times I visited because of its vast size and beauty. Guadi's art is placed throughout the park, mixing nature with art in a profound way. 
Some of my other Barcelona favorites are the Gothic Quarter,  Sagrada Familla, Bunkers (the best view), and La Boqueria. In my opinion, the best part of all of these spots is the journey there. I love the wide open and lively streets of Barcelona, with their peak time being the night!  
The nightlife in Barcelona is next level and it is a must to visit the clubs and bars throughout the city.  It is lots of fun and it is normal to stay out all night in a city like this one. 

​​​​​​​
Something about Portugal. 
I cannot begin to express my admiration for the culture, people, and beauty that Porto offered us. We arrived in Porto late Thursday night and we  settled into our Airbnb on the right side of the Duoro River, Villa Nova de Gaia. We crossed the famous bridge that connects Porto to Villa Nova de Gaia,  the Dom Luis Bridge. onto the city of Porto.  We aimlessly searched for somewhere to eat, but decided to follow the music and ended up at a restaurant close by. Later in the meal, our waiter told us this was there very first day open and we were one of their first customers. They treated us so nicely and gave us Porto wine and ham samples. After dinner, we headed to check out the nightlife of Portugal and it was such a fun time. 
For our first full day of Porto, we started off with a bit of exploring, enjoying the street music (most definitely my favorite part of Porto). We would listen to one artist and walk 200 feet to another amazing performer. We walked over the bridge to the center of Porto on Riberia street and enjoyed a meal by the water! After lunch, we hopped on a cable car across the water to see Porto from the sky. The cable took us right to our Porto wine tour where we got to see where they produce Porto wine. It was not my favorite wine, but a cool experience! After our wine tour, we headed home, grabbed some Italian dinner and headed to bed to rest for my favorite day of Porto yet.
On our last day in Porto, we started the morning with the most delicious brunch ever & then caught our boat tour around the 6 bridges of Porto! After the boat, we explored the spots we had on our bucket list, like the blue wall (of course), the

Clerigo Tower, and the Palace Gardens. We enjoyed more live music, tried a Cod Fish sandwich, and ate a dinner outside on the Patio. I fell in love with Portugal's people, its music, the amazing food, beautiful architecture & so much more.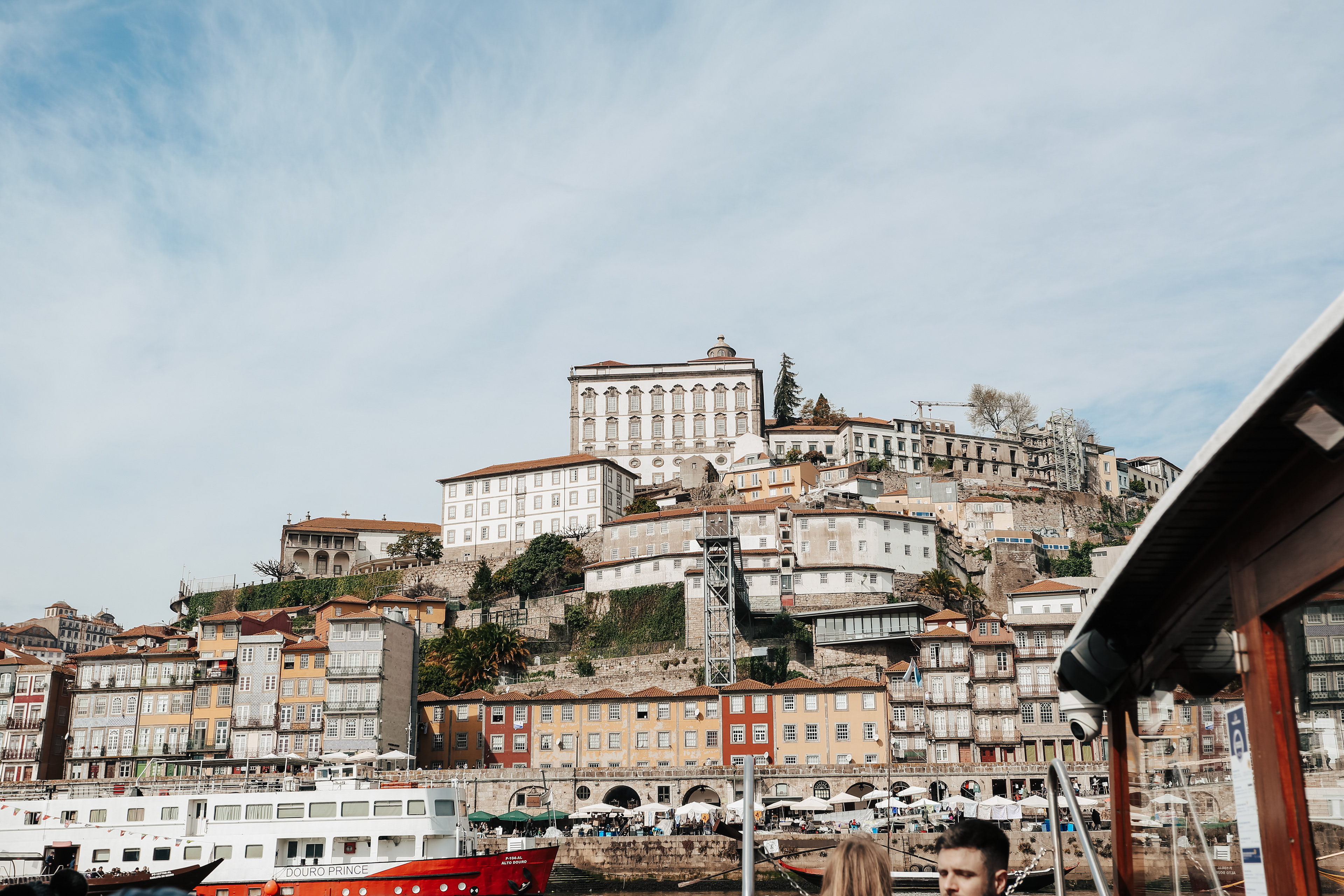 On Friday we arrived around 11am after a long 6 hour travel morning. We met up with long lost friends (@juliathack_ @tessadiserafino ) and let them show us around their beautiful city! Sadly, we had a lot of rain, so I wasn't able to grab too many photos, but we still had the best time. We saw an underground vintage market, went to Covent garden,

did some shopping, and went out to a fabulous dinner in Soho at night.  On our way back home, we saw a perfect rainbow which was a silver-lining to our long day. 
On Saturday of this quick weekend, we had absolutely beautiful weather and we were ready to explore it all in just one day! We headed over to the London Bridge and it was such an experience walking over this famous spot! We then headed to the London Eye and Big Ben to grab some photos and see the views! In the afternoon...
We went to NottingHill! This has been a bucket list spot for me for so long & I was SO glad to see it. We explored around the Portobello Market with hundreds of vendors selling foods, art, and my favorite, film cameras! The multi-colored buildings were even better than I imagined. After NottingHill, we caught the Rugby game at a pub and tried the London classic, Fish & Chips

.
the city of love(ly friends)
We had so many amazing adventures this weekend from celebrating Rory's 21st, climbing to the 2nd level of the Eiffel Tower, seeing the Mona Lisa, riding a river boat at sunset, and going to a live jazz show.  
I was a bit nervous about climbing the tower at first, so we made it our first task of the day before we got too tired. While I will never climb the tower again, I am glad to say I did it!  (It was painful to watch everyone head up the elevator).  The views at the top of the tower are unbeatable. You could see the white-painted city from a 360-view and it nearly brought tears to my eyes. 
After our time at the top, we took some time to rest by the park at the bottom and enjoy some people watching. I could have sat there all day and enjoyed the view, but we had so much to explore. Next, we took a river cruise to see the different sites from the water. We decided to go at sunset, so at 8:00pm, we could see the tower sparkle from our view. I loved this cruise and would highly recommend doing one! 
On our second day, we checked lots off our bucket list, such as trying Laudree, buying flowers by the market, seeing the Louvre and Notre Dame, and trying fresh croissants. 
Paris is big and overwhelming and while it was not the top city I visited, I would love to go back to experience a more insider look. Seeing the tower sparkle was a dream of mine and it met all expectations I had. 
After spending one night next to the Naples airport to wake up early, we headed on the hour-long journey through the mountains to the town of Amalfi. When we arrived, we had (the absolute best) paninis, hopped on the ferry to Positano, had the obligatory photoshoot in front of the landscape, and then relaxed with Pasta and Spritz. We explored the unique streets of Positano and the different shops and then sat by the beach until it was time to ferry back. Overall, Positano was the most ~aesthetic of the different towns and although there were  lots of tourists, it's totally worth the hype.
Day 2 was a day spent on the beautiful island of Capri! After a very intense and bumpy ride on the ferry, we arrived to the amazing view of the homes lining the water. We headed up to the AnaCapri area by an open-air taxi, one of my favorite memories. We rode a Cable car to the top of Capri. Sadly, the view was hidden from the clouds, but it made for its own type of beautiful. We had lunch in AnaCapri, and then waited for our Ferry (for many unprecedented hours...) by the water! Capri was my favorite of the three cities we visited on the Amalfi coast and i would have loved some more time to explore.
The Amalfi Coast ranks as my favorite areas I visited, well, it's Italy. I have visited Italy once before and been to the classic tourist cities, but seeing the Amalfi Coast was something I waited for since I was in middle school. I would save pictures of the Positano mountain on my Pinterest labeled "dream board." & my dream really came true. Italy is known for its impeccable food and I truly had a watering mouth at every meal. The views and experiences on the Amalfi Coast are bright, colorful, coastal, and well--Italian. To me, there is truly nothing like Italy and the Amalfi Coast exceeded every one of my Pinterest expectations. 
​​​​​​​
everything is white and blue 
We arrived in Santorini on Monday morning and headed to Oia to explore the area. We grabbed a traditional greek meal and then shopped around and had a few drinks over the water. Overall, a chill first day to get ourselves acclimated for the adventure. On day 2 in Greece, we had an AMAZING boat tour of the island, the volcanos, and the hot springs. We were on the water all day and even had a traditional Greek meal prepared which was absolutely amazing. I tried many new foods which if you know me, I do not usually do! Another great day of Greece in the books, seeing the island from the water :-)
On our next day in Santorini, we decided to hop on a van tour with an awesome tour guide to explore parts of the island we may have missed. We explored 3 different beaches, all with different vibes, saw a few unique lookout spots of the domes, and did a wine tasting with a perfect view. It was great to experience this tour and get an idea of the island as a whole.
On our last day, we headed to a beach of our choice from the previous tour and spent the day relaxing and enjoying the sun. We ate the most delicious Gyros, grabbed souvenirs, watched the sunset, and took in all the views.

Santorini was a wonderful place, yet was difficult to get around. We loved seeing the different landmarks such as Thira, Red Beach, Oia, and Hot Springs, but I would say, go to Santorini with a big wallet. I am confident that I will return to explore different areas and islands of Greece one day and see what more this beautiful country has to offer
GENEVA AND MONTREUX, SWITZERLAND
We started our journey in Montreux, a quiet city about one hour from Geneva, one of the largest cities of the country. We arrived late on Thursday, so seeing the view on Friday morning took all of our breaths away. We took a walk along the river and then headed to the Château Chillon, an amazing castle on the Water. It was so great to walk through and take some photos of the medieval and unscathed castle. We then hopped on a boat tour around Lake Geneva for a few hours and it was truly an amazing ride.
On the second day of Switzerland, we woke up and headed to the exhibit for Queen and Freddie Mercury. Queen recorded their last album in the city of Montreux, and it is where Freddie lived for the end of his life. It was so surreal to see so many real artifacts of the artists and it truly is a must see for any Queen fans. Later that day, we hopped on a train to Geneva and enjoyed the night exploring the (rainy) city
Today on our final day of the trip, we explored the old town of Geneva. After exploring the windy roads, we stumbled upon a beautiful Cathedral and decided to climb to the top. It was well worth the view!!! We did not have much time today to see everything before our flight, but what we did see was beautiful. Geneva is a modern city with lots of wealth, but we were so glad to sneak into the older side of town and see the beauty! Switzerland, you are a beautiful country and I cannot wait to see more one day